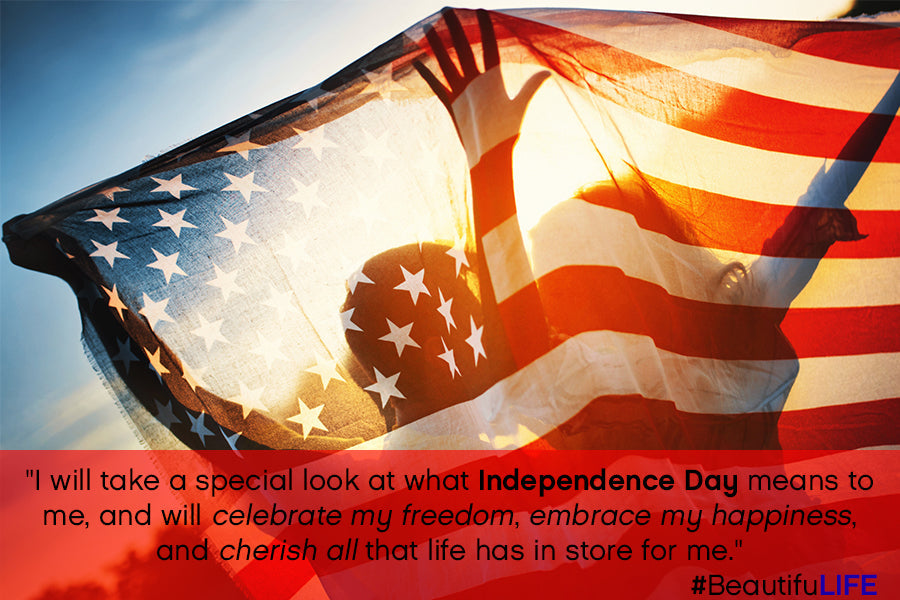 What does this day mean to you?  What traditions do you have that you continue to celebrate each year on this day?  When I was a little girl growing up in Minnesota, I spent every 4th of July at my family lake home surrounded by all of my relatives that would come from near or far.  We would all bring something to share, we cooked out, mingled with everyone, did some swimming and water sports and then enjoyed a fireworks show that we created ourselves or watched from abroad.  This was a special time that happened only once a year and no matter where you lived, you made an effort to come and to be together.  
We are all aware of the history of Independence Day and the importance of it to our Country.  It is such an amazing celebration each year on the 4th of July as we celebrate in our own special way, whether it be with family and friends or a simple quiet salute to the document that gave us the right to "Life, Liberty and the Pursuit of Happiness".
Freedom means something different to everyone, but on this day, it seems that so many of us will come together to stand on common ground to celebrate this right that we have and we cherish.  From parades to picnics to parties all ending with a fireworks show if we are lucky enough to see one with those that we love.  
So, how will you celebrate your Independence Day?  Have you created a tradition for yourself or your family?  If not, here are a few suggestions for you that might fit into your beautifulife.
Get up early and take a nice walk to pray, be thankful, and to appreciate the freedoms that you get to experience every day.

Go to your local parade to celebrate and support the people that help the community thrive. This will give you a sense of appreciation and gratitude for your surroundings.

Gather with family and friends to celebrate all that you have to be grateful for and share special memories that make you happy.

Find a place to watch some fireworks or watch them digitally. There is something special about a fireworks show on the 4th of July, unlike any other time of the year.  This is a symbol of what we are celebrating, which should be ended with a big bang!
No matter where you are or what your traditions entail, I hope your are taking the time to appreciate and cherish your freedom, your happiness and the beautifuLIFE you are creating for yourself.
My affirmation for you this week is;
"I will take a special look at what Independence Day means to me, and will celebrate my freedom, embrace my happiness, and cherish all that life has in store for me."