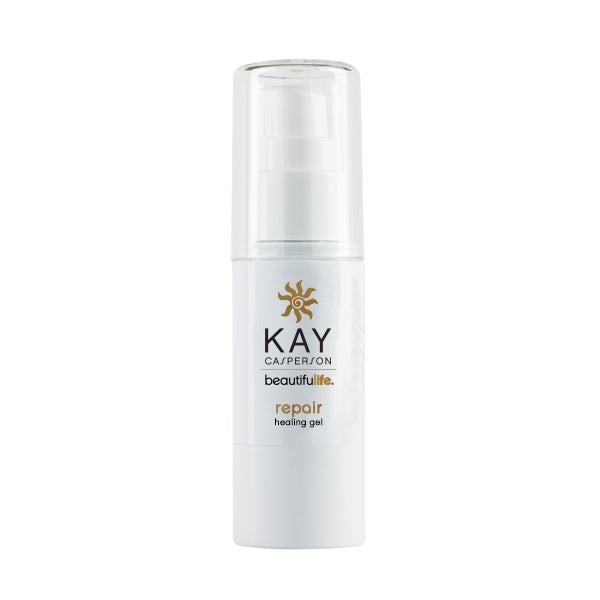 The ideal treatment for every skin type, this versatile, lightweight gel absorbs quickly and helps to balance, moisturize, repair, tone, and improve the overall texture and radiance of your complexion.
A nourishing combination of calming orange and sandalwood oils and soothing aloe, chamomile, and lavender extracts, Kay's Healing Gel is infused with phytonutrient-rich gotu kola, extracted from a medicinal plant used for thousands of years for its powerful rejuvenating and anti-inflammatory properties, especially on the skin.
In addition to nourishing SeaRose and Nectapure, Kay's Healing Gel also features –
• Glyco-Repair, a natural compound from carob seeds that helps to naturally repair damage by restoring healthy cellular activity and enabling skin to retain more moisture
• Regu-Age, a mixture of essential proteins extracted from rice and soybeans that visibly reduces dark under-eye circles and puffiness, strengthens collagen and elastin, increases firmness, and helps to reduce the appearance of fine lines and wrinkles.
Use Kay's Healing Gel as a treatment for the face, neck, and chest, or as a soothing spot treatment for blemishes, bug bites, burns, scars, sunburns, and dry patches.
The airless pump, clear cap, and 1 Oz. bottle comply with airline regulations, making Kay's Healing Gel easy to travel with. 
Recommended for All Skin Types
healthy / mature / dry / oily / combination / blemish-prone / sensitive
[please click the product tabs to read more]
lifestyle affirmation:
I repair myself
Creating balanced, beautiful skin takes time – as does cultivating a balanced and beautiful life. Commit yourself to resolving long-standing issues that prevent you from moving forward in your life: set aside time for starting – or finishing – a home improvement project you've been putting off, address recurring health problems head-on, and attempt to mend damaged familial, social or spiritual relationships.
How to Heal
• With fingertips, gently apply Healing Gel directly to puffy, dark areas around eyes
• Apply to the entire face, neck, and chest (and hands and arms too!)
• Allow gel to completely absorb before applying moisturizer or makeup
• Spot treat blemishes, bug bites, burns, scars, sunburns, and dry patches
What to Use Next 
Glow Serum, Moisturizer or Smoothing Cream
---
WATCH: How to Use Kay's Healing Gel + Lifestyle Affirmation
Ingredients: Water (Aqua), Glycerin, Sorbitol, Hydrolized Ceratonia silqua (Carob) Seed Extract (Glyco-Repair), Hydrolyzed Rice Bran Protein (Regu-Age), Glycine soja (Wild Soybean) Protein (Regu-Age), Oxido Reductases (Regu-Age), Magnesium Ascorbyl Phosphate, Aloe barbadensis Leaf Juice, Centella asiatica (Gotu Kola) Extract, Anthemis nobilis (Chamomile) Flower Extract, Lavandula angustifolia (Lavender) Flower/Leaf/Stem Extract, Hippophae rhamnoides Extract (SeaRose), Sedum rosea Root Extract (SeaRose), Buddleja davidii Extract (Nectapure), Thymus vulgaris (Thyme) Flower/Leaf Extract (Nectapure), Panthenol, Santalum album (Sandalwood) Oil, Citrus aurantium dulcis (Orange) Flower Oil, Polysorbate 20, Disodium EDTA, Carbomer, Sodium Citrate, Triethanolamine, Phenoxyethanol, Chlorphenesin