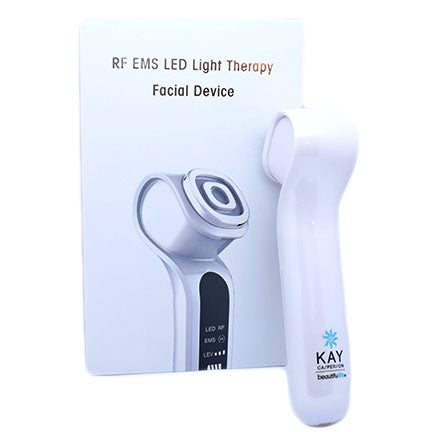 Our Exclusive LED Facial Device is unique as it has 7 LED Lights to address the various Skin concerns.  It also has a combination of Radio Frequency, Electrical Muscle Stimulation along with the LED or Light Emitting Diode Therapy.
We use this device in our Spa Signature Facials.
Along with the purchase of this device, you will get your choice of a Skincare Kit for FREE. 

Product Specifications
 Function: RF, EMS, LED and Hot
Charging Type: USB Charging
Power Voltage: 5V-1A
Power Output: 2-6 W
Batter Capacity: 1000mAh
Charging Duration: 3 hours
Battery Working Time: 90 Minutes
Standby Time: 90 Days (If the unit hasn't been used for more than 90 days, please make it fully charged before use)
Size: 175*45*45MM
Material: ABS
Led Therapy
Special LED light for beauty is very stable and won't cause any damage to your skin.
 7 LED Colors
Different Treatments for your skin need
 BLUE Wavelength – 415nm
 - Excellent effect on beauty, improve sensitive skin
 RED Wavelength – 630nm
  -Stimulate skin cells to excrete collagen to firm and smooth texture
 GREEN Wavelength – 525nm
  -Anti-aging, smooth wrinkle and fine lines
 CYAN Wavelength – 490nm
  -Mitigate inflammation, neutralize, balance and stabilize the skin
 YELLOW Wavelength – 590nm
  -Fade dark spots, freckles , and blemishes
 PURPLE Wavelength – 390nm
  -Improve lymph metabolism, microcirculation, to ameliorate acne
 WHITE MIX
   -Relaxing, Restoring a younger and healthier skin
 Kindly Reminder:
Press LED/ Vibration Key seven times after powering the device, all LED lights off.
RF (Radio Frequency)
 Radio Frequency is characterized by the shortest distance between the electrode flow. When the high frequency is flowing between the tissues of living body, energy is produced in the easily flowing portion according to the characteristics of high frequency and the resistance of biological tissue.
EMS (Electrical Muscle Stimulation)
 EMS is used to activate the skin cell, stimulating rejuvenation of collagen, to improve skin elasticity, soften wrinkles and leave skin looking smooth and healthy.
Unique EMS current can activate cells, promote the proliferation of collagen protein, and stimulate muscle to move up, make skin feel picotement and elasticity. Stimulation of subcutaneous tissue activate the cells and stimulate collagen to contract and reorganize, which create new collagen, make facial muscles morretense, dynamic and elastic. Therefore, this device can improve the skin fine lines and wrinkles to regain youthful and smooth skin, without any damage to skin.
Sonic Vibration
 Sonic vibrations acting on the face can make the skin cell with vibration and produce micro massage effect, change the cell volume. Thus, improve local blood and lymph circulation, strengthen cell permeability, improve tissue metabolism and regeneration, softening tissue, stimulates the nervous system and cell function, make the skin shiny and elastic.
Hot Massager
 In the process of massaging, the skin will have the feeling of slightly heat. EMS current can stimulate movement of muscle, and muscle movement can produce heat. The temperature is about 40 degrees, which can help to open cells pore then promote the absorption of facial cream.
 Battery light begins blinking and a warning beeping occurs while the power is on, which means low battery capacity, and then the device will turn off automatically.
Power/ Current intensity key
 Press  4  power key for about 3 seconds to power the device. The blue light 2  is on, at the same time the current intensity is at the first level and the function of vibration is turned on automatically. Meanwhile, all indicator lights of the display screen are on.
There are 3 different levels for current intensity to choose. Press 4  once, the current intensity turns to the second level. Press  4  twice, the current intensity turns to the third level.
Press  4  three times, the current intensity turns to the second level.
The mode of LED lights could be switched by gently press  3 . The vibration can be shut down by press  3  for about 3 seconds.
There are seven different led modes to choose.
The device is on with blue light lights.
-Press  3  gently once, LED turns to red light.
-Press  3  gently twice, LED turns to green light.
-Press  3  gently three times, LED turns to cyan light.
-Press  3  gently four times, LED turns to yellow light.
-Press  3  gently five times, LED turn to purple light.
-Press  3  gently six times, LED turns to white-mix light.
-Press  3 gently seven times, LED turns back to blue light.