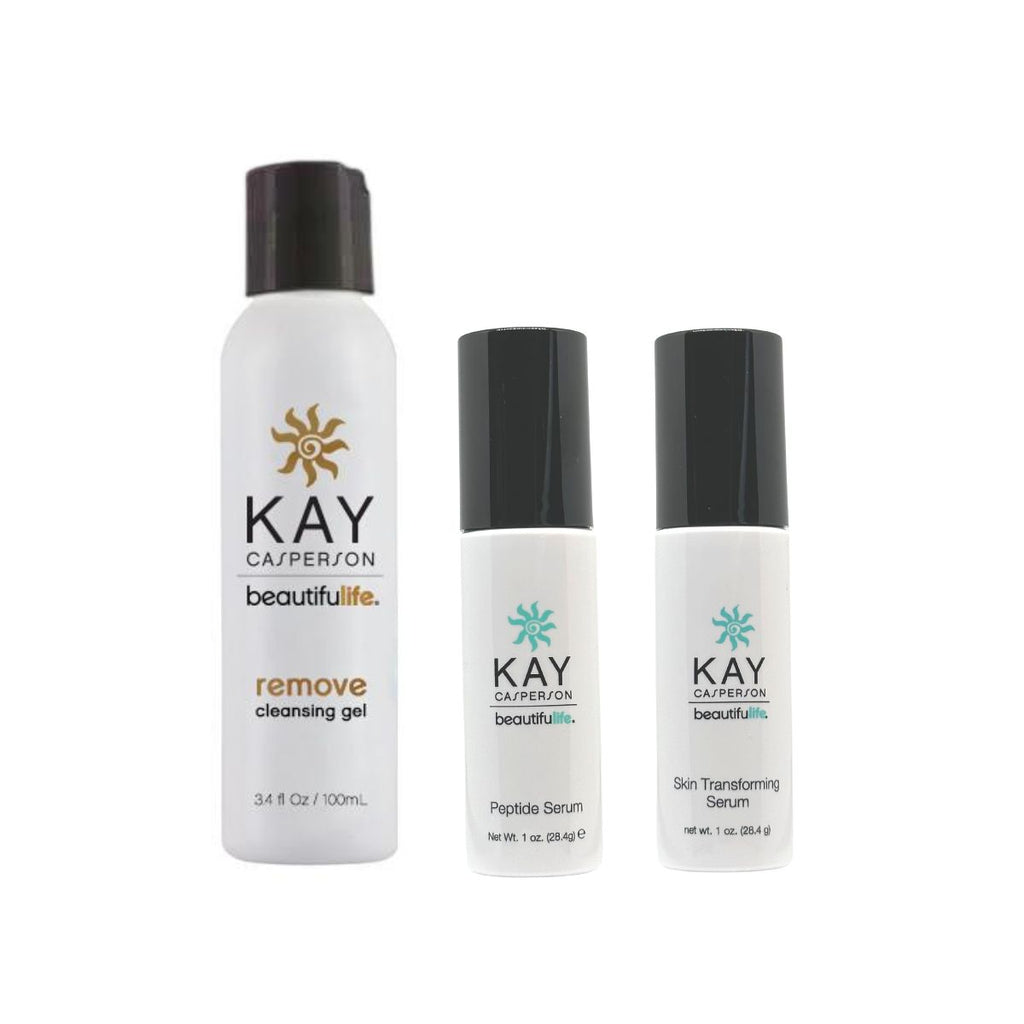 Everything you need to give your skin a youthful, smooth and softened look and feel.
Our gentle cleanser, powerhouse peptide serum and smoothing skin transforming serum are the perfect recipe for your youthful glow. XO
Cruelty-Free.

[please click the product tabs to read more]
Kay's concentrated gel cleanser requires only a small amount of water to produce a rich lather that removes makeup and impurities, rinses clean without stripping essential moisture and nutrients, and leaves skin soft, toned, and hydrated.
This versatile, hypoallergenic cleanser also works as a gentle, nourishing alternative to harsh, drying shaving gels for both men and women, and is ideal for cleansing synthetic and animal-hair makeup brushes.
In addition to skin-soothing coriander, sage, and aloe, Kay's Cleanser is formulated with nourishing, antioxidant-rich SeaRose, and moisturizing, deep-conditioning Nectapure.
Recommended for All Skin Types
healthy / mature / dry / oily / combination / blemish-prone / sensitive
Our Peptide Serum is packed with amazing ingredients.
An anti-aging powerhouse with a synergistic trio of ingredients that help repair and rebuild skin's structure.  Multi-corrective technology targets skin's visible and invisible signs of aging 

Anti-aging serum
Repairs & rebuilds

 

For mature skin
Matrixyl® Synthe'6™ Mimetic peptide works to improve underlying skin structure, while performing the function of a "chaperone" molecule.  Similar to constructing a building where a project manager coordinates the various jobs, this molecule is involved in the orderly, rapid maturation of collagen.  Complexion Perfection™ is a second generation AHA, liposome encapsulated tripeptide that rejuvenates the skin by biomimetic peeling to renew smoothness. Dermal Filler Cross-linked Hyaluronic Acid helps restore volume, smoothing out skin's microrelief. Macadamia Seed, Hazelnut Seed & Cucumber Oils, Glycerin & Squalane are nurturing ingredients rich in fatty acids and act as effective emollients to prevent transepidermal water loss (TEWL), keeping skin moist and supple. Silica & Marine Filling Micro-Spheres Optical Diffusers smooth skin and create an immediate soft focus effect so flaws appear diminished.
Cruelty-Free.
Recommended for All Skin Types
healthy / mature / dry / oily / combination / blemish-prone
Our "Renew Skin Transforming Serum" that we know you will absolutely love!  Our new formula, Improves radiance and evens skin tone. Smoothes, hydrates and reduces the appearance of pores. Diminishes the appearance of fine lines, wrinkles, and other imperfections with soft-focus diffusers. 
Silky, radiant serum
Transforms complexion
For all skin types
Matrixyl® Synthe 6™ visibly helps correct skin imperfections and works to help diminish the appearance of fine lines and wrinkles. Dermal Filler helps restore skin volume and smooth away facial wrinkles, replenishing Sodium Hyaluronate for deep hydration. Pore Perfection is rich in oligosaccharides and helps to improve skin by minimizing the appearance of enlarged pores. Color Correctors help neutralize sallow tones by combining the perfect balance of translucent microspheres, precious Gold particles, and photoluminescent technology. Helps to work synergistically to aid in unifying the skin's undertone while promoting enhanced luminosity. Ascorbyl Glucoside is a natural form of vitamin C that helps promote collagen synthesis and helps inhibit melanin production for a skin brightening effect.
Cruelty-Free.
Recommended for Most Skin Types
healthy / mature / dry / combination