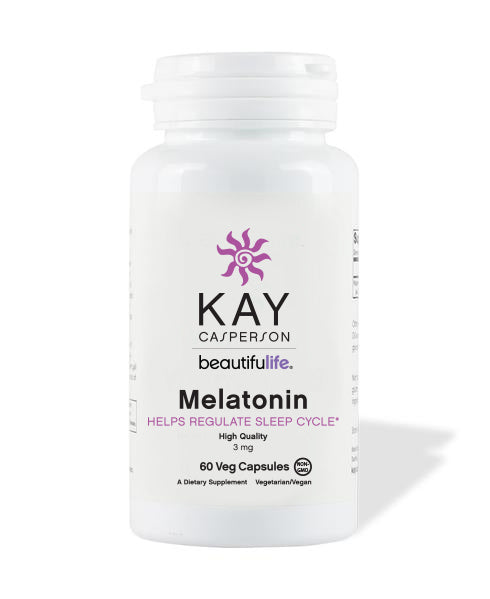 Melatonin helps to mediate your sleep patterns and wake cycles, and can be found in very small amounts in certain foods. It can be utilized as a sleep aid for those experiencing sleep deprivation, SAD (Seasonal Affective Disorder) and may even reduce headaches in certain cases.
Affirmation: I will rest and recover
Suggested Usage: As a dietary supplement, take one capsule near bedtime with water. Capsule may be opened and the contents divided over several evenings if desired. Research indicates that Melatonin may be associated with the regulation of sleep/wake cycles* Melatonin helps to defend against free radicals and may help to maintain glutathione activity*.
Caution: For adults only. Consult a physician if pregnant/nursing, taking medication, have a medical condition or have any history of liver, gall bladder or gastrointestinal problems. This product may cause drowsiness. Do not operate vehicles or heavy machinery following consumption of melatonin. Keep out of reach of children.
**These statements have not been evaluated by the Food and Drug Administration. This product is not intended to diagnose, treat, cure or prevent any disease.
Supplement Facts
Serving Size: 1 Capsule
Amount per serving
Melatonin: 3mg
Other ingredients: Rice Flour and Gelatin (capsule)
Not manufactured with sugar, salt, wheat, gluten, soy, milk, egg, shellfish or preservatives. Store in a a cool, dry place after opening.