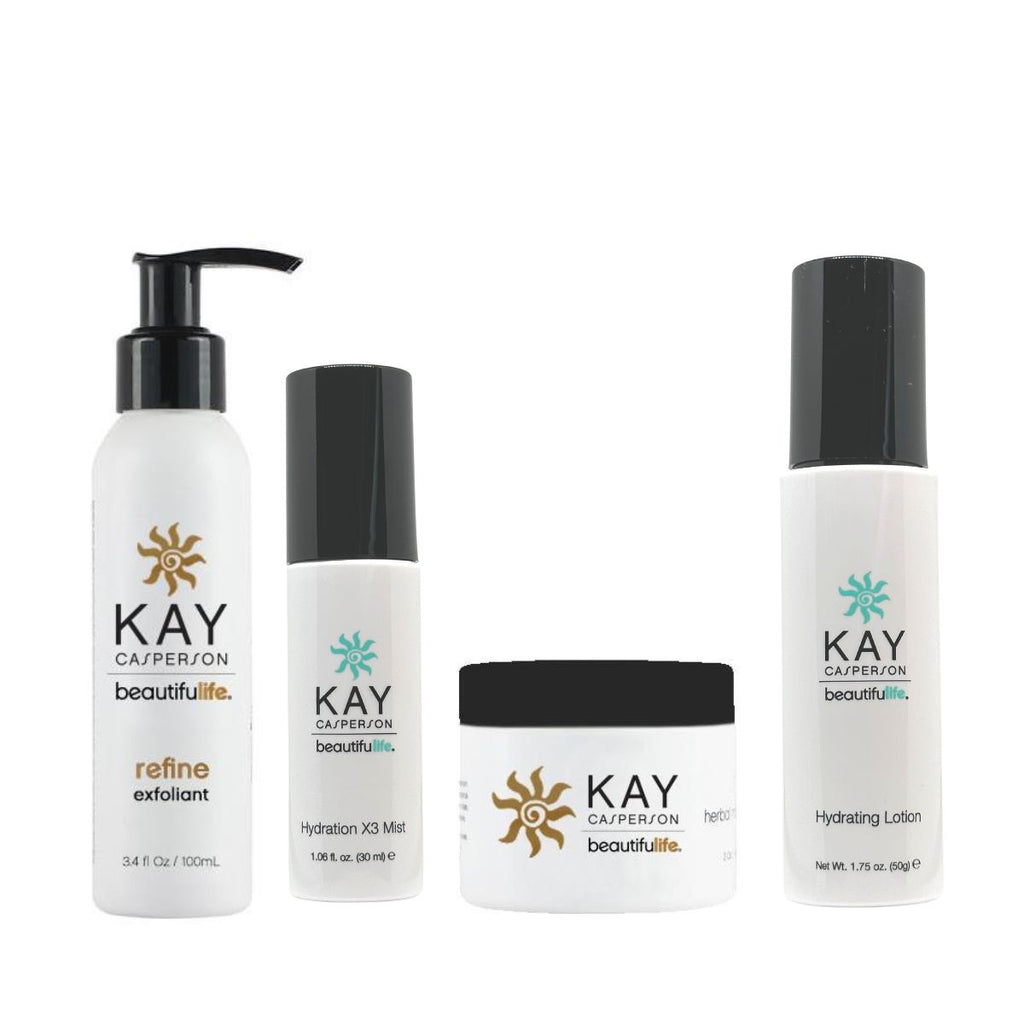 Bring the Spa home and treat yourself to a relaxing scrub, refreshing toner, rejuvenating mask and nourishing moisturizer while sipping your favorite beverage and enjoying your me time. XO
Cruelty Free
[please click the product tabs to read more]
Smooth, soften and polish your skin to perfection with Kay's naturally nourishing exfoliating scrub treatment! Formulated with a protein- rich complex, soothing minerals and non-abrasive microbeads help to moisturize and stimulate cell-renewal, while leaving skin beautifully soft. With a fresh citrus scent, it's perfect for early morning use or refreshing your skin before bed!
Our Refresh Hydrating Mist X3 is an epidermal pick-me-up!  A quick spritz of this nurturing face mist is all you need to hydrate your skin and revitalize your spirits.  It purifies and refreshes while providing lasting moisture and restoring suppleness. 

Refreshes skin

 

Increases surface moisture
Helps counteract the effects of environmental pollutants
Adds a layer of hydration to lock in moisture
Glycerin, a potent humectant, attracts and holds moisture to the skin's surface for enhanced hydration and softening effects on skin.
Gallic Acid and Shea Butter work as powerful anti-free radical agents with elevated detoxifying potential against nicotine, chlorine and certain metals generated by industrial pollution, a newly discovered cause of skin aging. The detoxifying character of this fraction can prevent long-term damage and inflammation, reinvigorating the complexion.
Hydrolyzed Hyaluronic Acid for improved penetration and deep nourishment. It helps enhance skin elasticity and strengthen the barrier function of the skin, as it helps plump and adds suppleness.
Cruelty-Free
Relax into the soothing scent of natural geranium and juniper oils while Kay's satiny-smooth Mask transforms the surface of your skin. This flexible clay mask doesn't crack or flake away, and no matter how long you leave it on, it won't dry out, strip, or irritate even the most sensitive complexions. 
Detoxifying bentonite clay and Kaolin clay (harvested from Kaoling Hill in China) bind to impurities and draw out contaminants, aloe calms the skin, and marine species rich in essential nutrients (sea lettuce and Irish moss) moisturize and nourish the skin.
A special blend of soluble collagen, vitamin C, and niacinamide helps restore essential proteins to the skin, while SeaRose and Nectapure add powerful deep-conditioning, anti-aging, and antioxidant benefits.
Use Kay's Mask all over the face, neck, and chest once or twice a week after cleansing or exfoliating, or as a nightly healing spot treatment for blemishes, breakouts, and problem areas.
The 2 Oz. jar and screw-on lid comply with airline regulations, making Kay's Mask easy to travel with.
Cruelty-Free
Recommended for All Skin Types
healthy / mature / dry / oily / combination / blemish-prone / sensitive
Our Replenish Hydrating Lotion is an intensely hydrating daily moisturizing lotion. Hydrates, nourishes, softens, soothes and protects dry, dehydrated skin. 

Daily moisturizer

 

Intense hydration

 

For all skin types
It is packed with;
Advanced

 

Humectants (Squalane & Sodium Hyaluronate) offer deep hydration and softening to skin.

 

Algae Extract

 

leaves skin supple and firm, while enhancing antioxidant protection.

 

Centella Asiatica & Echinacea Extracts

 

provide added firming benefits.

 

Cucumber Oil

 

soothes, refreshes, softens and helps heal skin.

 

Shea Butter, Avocado, Hazelnut & Jojoba Oils

 

are rich in vitamins and add natural emolliency and lubrication.

 

Patented

 

HYDRAPATCH™ TECHNOLOGY, a synergistic combination of natural moisturizing factors and skin protectants, help reduce dehydration and render skin soft, supple and smooth with long-lasting benefits
Cruelty-Free
Recommended for All Skin Types
healthy / mature / dry / oily / combination / blemish-prone / sensitive