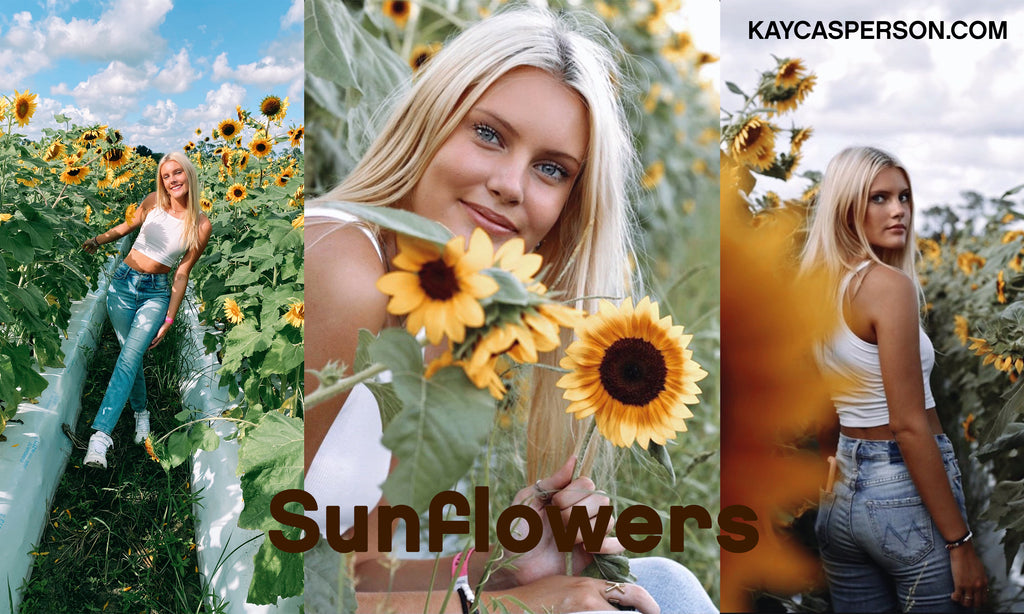 This is what I call the "happy flower."  This flower can bring joy, peace, happiness, and comfort to all regardless of the recipient.  It is always my absolute favorite flower, and most people near and dear to me know it.  In September, 19 years ago, my husband and I were getting ready to travel to Provence, France, to get married in a field of sunflowers.  Unfortunately, 911 hit the week of our travels, and we had to make alternate plans for our big day.  This past weekend, my soon to be 17-year-old daughter Kayla visited a sunflower farm and brought me home some beautiful fresh-picked flowers that she knew I would love.
The sunflower's name comes from its tendency to reposition itself to face the sun.  Various cultures attribute different meanings for the sunflower.  It most commonly refers to loyalty, but people will associate sunflowers with long life, many blessings, fortune, and a strong vitality in China.  To some Native American groups, sunflowers represented harvest, bounty, and provision because they provided seeds, pigment, and more.
The sunflower's yellow color has been known to symbolize vitality, intelligence, and happiness.  The color yellow also traditionally symbolizes friendship.  Sunflowers can also symbolize worship and faithfulness in various religions because they resemble the sun, associated with spiritual knowledge and the desire to seek light and truth.
Other fun facts to know are that sunflowers are often given on 3rd year wedding anniversaries as signs of adoration, loyalty, and strength.  They usually bloom in the summer and are heat and drought tolerant, which means even someone like me who does not have a green thumb might be able to grow them.
The two main types of sunflower varieties grown are the oilseed type, which has small black seeds, and the non-oil type, which has larger seeds with a thicker hull.  Sunflower oil is used for cooking and in many beauty products.  Its health benefits can include improved heart health and lower cholesterol as well as healthy glowing and vibrant skin.
I believe that sunflowers are a great choice regardless of whether you're simply trying to brighten someone's day or you are showing them how much you love and adore them.  The vibrant, fun nature of this beautiful flower will be sure to make an impact in more ways than one.
My affirmation for you this week is;
"I will take the time to send sunflowers to someone I appreciate because I know how much they can lift a spirit and brighten a day".