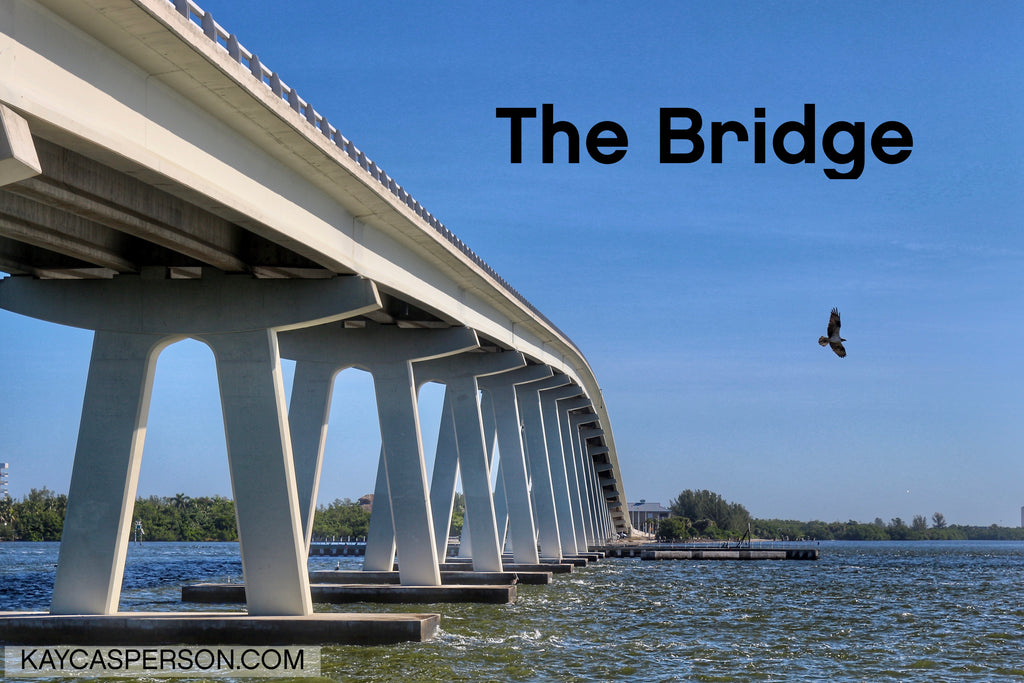 After living on an island for many years, I realize how significant the bridge is.  When I come back to the Island after being away or running around off-Island, I always appreciate the exceptional beauty that this bridge brings to me when I come back across.  From the peaceful feeling, color of the water, dolphins jumping, ospreys perching on the side, and the pelicans diving right in front of me.  I also appreciate the fact that when I need to leave the Island, there is a safe way to do so and to connect me to a bigger city with more options for things.  
In my home, I have many rooms filled with framed black and white photography from a photographer named Charlie McCullough.  In the 1970s, Charlie and his wife retired to his grandfather's fishing clubhouse, built-in 1908 on Sanibel Island.  He was able to continue his passion for photography.  My husband and I were lucky enough to meet him at his home to see his work hanging and pick out our favorite pieces.  These pieces range from the old mailboat, the hurricane flag, the lighthouse, and many of the old beloved memories of the Islands.  He has since passed in 2013, and one of our favorite pieces is the old causeway bridge.  I remember when the bridge was upgraded and essentially rebuilt.  It went from a drawbridge to a high span bridge with some debate. 
A few different sayings use the word bridge, such as "I'll cross that bridge when I get there," which means, why worry about something until we need to?  I am a fan of that because most times, the thing you thought you needed to tackle never happens.  The other one is "be careful not to burn your bridges."  Burning bridges means that if you take action without thinking of the consequences, you may no longer be able to rely on future opportunities.  I love this one since I always recommend that my staff and employees leave things on a good note if they feel a need to move on to a new direction.  Doing this will ensure a potential opportunity if they decide that they want to return.
Sadly, while working on this topic of the bridge, Naomi Judd passed away unexpectedly.  Earlier this month, she and her daughter Wynonna sang in front of Nashville's Country Music Hall of Fame and Museum.  They sang their timeless ballad "Love Can Build A Bridge," a pledge of intent to reconcile and then love and support someone no matter the circumstances. 
Here is a glimpse of the lyrics;
I'd gladly walk across the desert with no shoes upon my feet to share with you the last bite of bread I had to eat.  I would swim out to save you in your sea of broken dreams.  When all your hopes are sinking, let me show you what love means.  Love can build a bridge between your heart and mine.  Love can build a bridge, don't you think it's time.  I would whisper love so loudly, every heart could understand that love and only love can join the trials of man.  I would give my hearts' desire so that you might see that the first step is to realize that it all begins with you and me.  
The bridge has a different meaning for everyone, and I believe it has several definitions for most.  But one thing I know for sure is that the bridge connects us to something essential for many in having their best and most beautifulife.  So build them, don't burn them, and cross them whenever you can. 
My affirmation for you this week is:
"I cherish the bridges in my life that connect me to beauty, peace, and all things good."