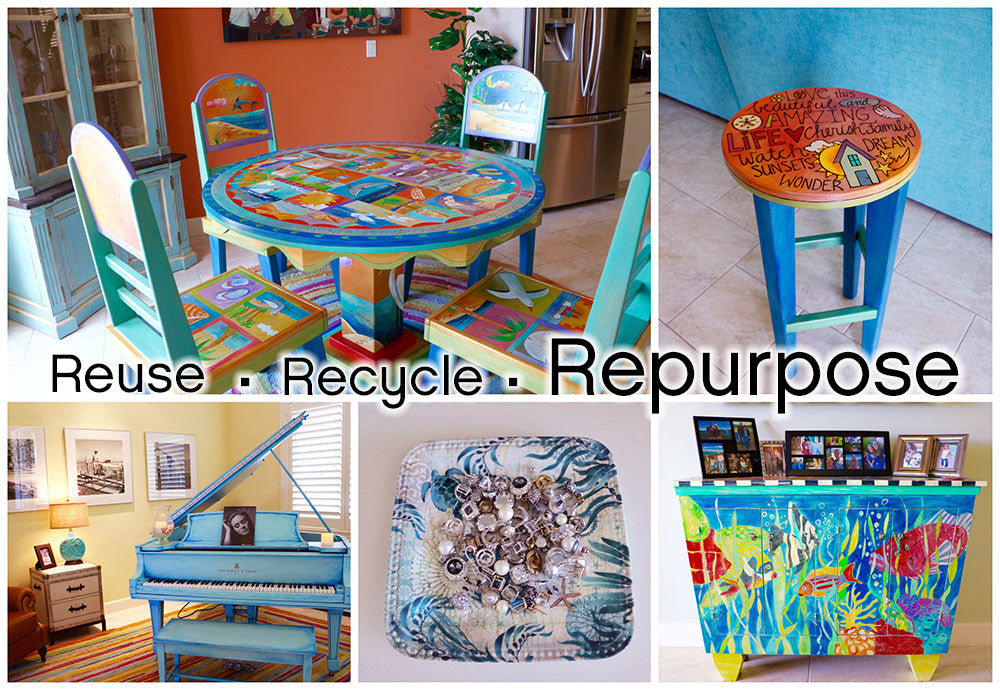 This week after doing a bit of my own spring cleaning I began to think about how much fun it has been to repurpose things along the way.  And so, of course I wanted to share some of my thoughts in hopes that it might just spark up an idea for you as well.
Finding a new home for something that doesn't fit in its original space or making it into something that is more useful or practical takes a bit of creativity and thought but it can also be quite rewarding to know that you didn't just toss it out because it had lost its original purpose.  Repurposing can be used for organization, decorating, crafts or even for someone else to enjoy the use of now.
I love it when I can take a piece of furniture or a home accessory that doesn't work in its original space or has lost its purpose and I can find a new home for it.  I always think about whether this will work at one of my locations or in any other space.  If I cannot repurpose it in one of my own spaces then I know someone else will be able to, so I donate it to a charitable organization.  There are many places that will take gently used furniture, clothing and accessories and either resell them or give them to families in need or just to someone looking for that one cool piece.
Sometimes having a storage space comes in handy when you are deciding what you want to do with certain items and need to put them somewhere temporarily.  Just keep in mind that if you have not found a new home for things after a period of time...say a year or two then you need to part ways with those items and give them a new home by donating them.
Here is a list of ideas for repurposing things that just might spark a thought for you;
Pull out some of your beautiful serving platters or bowls and turn them into displays of gorgeous seashells or things that you have collected over time.
Turn drawers into jewelry chests and makeup organizers or even an armoire into a place to organize sunglasses, jewelry and accessories.
Take a coffee table, end table or even a dining table and have it painted with a theme that adds a bit of fun and personalization (I've even gone as far as to have a piano refinished and distressed to work well with my turquoise beachy theme)
Use fun mason jars or glasses that don't match your set anymore to hold your makeup brushes or makeup pencils to keep them clean and organized.
Baskets can be great for putting together fun gifts for people or for rolling up towels and storing them near the bath tub.
Your small teacup plates, small serving bowls or little decorative boxes can become great holders for earring backs, small jewelry items, rings or watches.
Save all your ribbon, pipecleaners, yarn, extra material, colored pencils, paints, brushes, tape, glue, tissue paper, glitter, magazines etc...and put them in art bins so that you can pull them out and create a collage about something you're dreaming about doing someday;  we call them vision boards.
There are so many ideas for finding new homes for things and I know you have a few of your own as well.  All of these things add to the fun you will have in continuing your journey to having the most balanced and beautifulife.  
My affirmation for you this week is;
I look for new ways to repurpose my belongings
and enjoy knowing that the memories will live on
and someone else is inspired along the way.