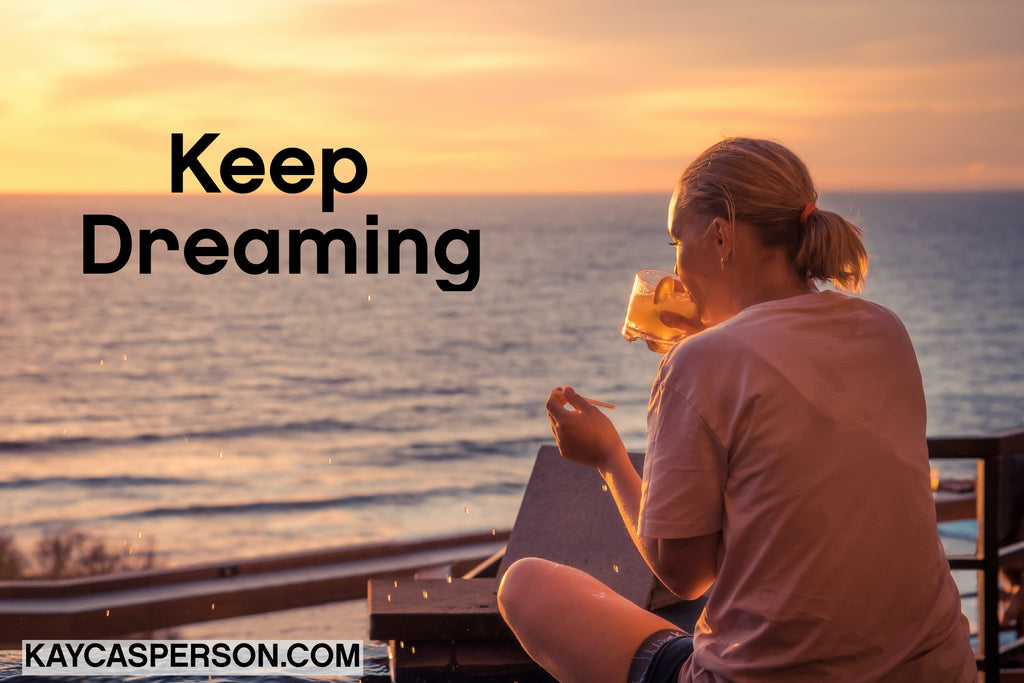 I am a big believer in dreams.  No matter how old or young you are, it is an absolute necessity in life to continue to dream.  Dreaming about what you want to accomplish and the directions you want to go is another critical factor in having your best and most beautifulife.  
It is so much fun to hear about the dreams my kids and husband come up with every day, from what they want to do soon to years from now.  I love their imaginations and their confidence in knowing that these dreams will definitely take shape.  I remember when I was a young girl and spent many hours daydreaming about how I wanted my life to look and where I wanted to be.  I remember imagining myself right there in my dream and smiling about the outcome.
Dreaming about your life, either present or future, is powerful and is not just for the young, but for everyone at every age, and here is why.  Dreaming can;
Fuel your creativity and open your mind to new possibilities.
Keep you optimistic and hopeful for a bright future.
Instill a motivation to accomplishing goals along the way.
Help to steer you on the path to your destiny regardless of the outcome.
Ensure that your mind and your imagination continue to evolve.
I will never ever say to anyone, you can't do that, or that is not possible in terms of someone's goals or dreams.  Dreams are for all of us, individually, to discover, live, and change at any given time. They are the fuel that keeps us all going and growing.  
No matter how crazy something sounds, try your best to never squash someone's dreams by telling them that is impossible.  This is something that can be very devastating to someone who has a world of opportunity awaiting them.  Instead, encourage them by saying something like, that sounds amazing, and I think you would be great at that, or I know you can do it!
Yes, daydreaming, night dreaming, or anytime dreaming is essential and necessary to continue in the best and most positive direction.   Don't ever think your dream is unattainable because every one of them is valid.  
If you find that your dream has to lead you in a different direction than you thought, don't be discouraged because your dreams may have just brought you to your destiny.  As long as you search your heart, pray for answers, and listen quietly, you will ultimately end up where you belong.  
My affirmation for you this week is:
"I will never stop dreaming because I know that dreams are the fuel to my soul."