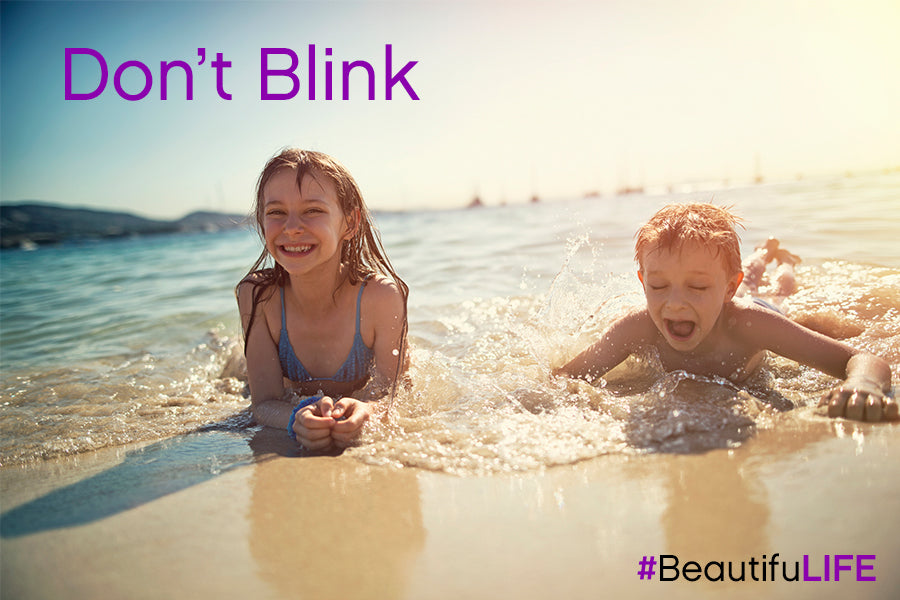 How many times have you said, "I can't believe how time passes so quickly."  Whether you are referring to your children growing up or you becoming older, it seems that we continue to be amazed at how fast the years go by.  
Just this past year, I have experienced a few unexpected deaths of friends, colleagues, and acquaintances that all seem to be too young.  I know that we will lose loved ones here and there from different unexpected reasons, but I seem to be experiencing this more just lately.
What I know for sure is that, the more we realize how short life is, and how it can be gone at any moment, the more we need to live each day to the fullest and strive to do everything that our heart is telling us to do.  Now is the time, don't wait, don't blink, because it could be gone any second.
Our kids grow up too fast, we age too fast, life passes by so quickly, so what can you do to make it all count right now?  What are the things that you can do to make the most out of every moment, while you have it? Below are some of my favorite suggestions.
Spend quality time listening and interacting with loved ones as much as you can. This will not only help to create the best relationships but will ensure that your much needed positive impact will make lasting impressions and will build a lifetime of memories. 
What are the things that are in your heart that you have not done yet?  Whether it be in business, the arts, sports or travel, there are sure to be those dreams left that have not been accomplished due to lack of time, money, or other circumstances.  My suggestion to you is to do everything you can to make them happen, sooner than later. Use your determination to find a way because now is the time.
Are you living where you want to be?  What is stopping you from being there?  You are in charge of your destiny, and although you may be afraid to make a change or take the leap to be where your heart is tugging you, the truth is, time is short, and you need to go toward happiness, peace and where you feel alive and fulfilled.  
Who are you spending your time with and are they helping to keep your life fulfilled and moving in a positive direction?  Or, are you spending time with people that fill your life with their own sense of unfulfillment, negativity or pessimism? This is an important one, and we need to be very careful about letting people creep into our lives that soak up our energy, drain our enthusiasm, and squash our dreams. 
The most important thing to remember is that in the blink of an eye, your world can be different, a loved one can be gone, or even your health and situation can change.  Take each and every moment of your life right now to evaluate where you are, where you want to be, and who you want to be with. Make it happen and cherish every single minute along the way because, in the blink of an eye, the beautifulife that you have created can pass you by.
My affirmation for you this week is;
"I will continue to create the beautifulife that I want to have right now and will make the best out of each and every single moment along the way."