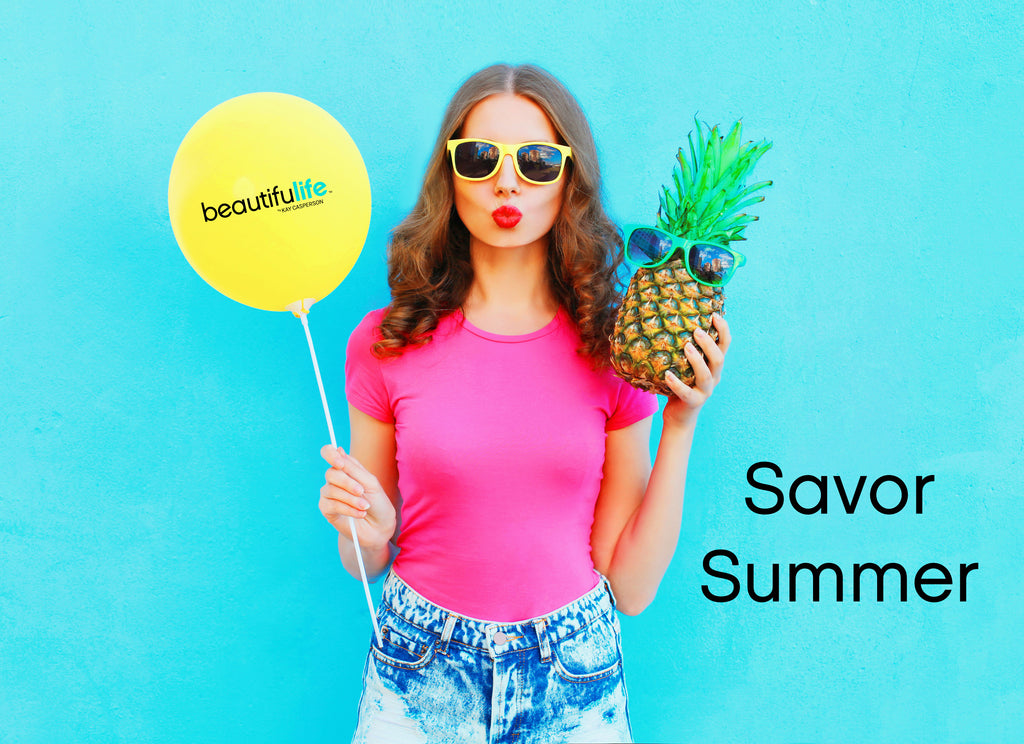 What's the recipe for your perfect summer?
Does it include ingredients like backyard barbecues, fireworks, family vacations, and maybe even a list of home improvement projects?
There's always so much to do during the summertime, and the season seems to be over before we get a chance to truly enjoy it; that's why I like to write down the things I would like to accomplish during this time, just like I would list the best ingredients for a new recipe I am creating and then I check them off as I make it all happen.
But there's always room for improvisation, and I love to add a dash of imagination and a pinch of spontaneity whenever I feel inspired – as long as it will help me to live a more balanced, beautiful life. Here are some of my key ingredients – and affirmations – for a summer worth savoring!


I cherish new memories with old friends - Summer is a time for both new experiences and nostalgia. Reach out and reconnect with the people who are special to you, even if you haven't seen or spoken to them in a while. Dig up some old photos so you can have fun reminiscing as you create a new album or scrapbook together – if you can't visit each other in person, scan your favorite photos in advance and plan for a time when you can all connect and catch up via video chat.
 I use my spare time to rejuvenate my spirit - Don't spend your days rushing from one obligation to another, because before you know it, fall will be just around the corner. Make the most of the in-between moments by filling them with activities that replenish your mind, body and soul, like a long-term creative project, working your way through a summer reading list by the pool, planning a day-trip or an overnight "staycation" somewhere fun, a visit to the Spa or Salon or even just taking the time for some much needed rest and relaxation at home.


I make room for positive change in my life - Cleaning out your garage, junk drawers, closets and cosmetics bag is a great way to make the most of summer downtime, but, in addition to clearing out physical space in your environment, also make room in your life for your passions, goals and dreams by writing them down and scheduling them into your daily routine.
No matter how or where you spend your summer, make sure you slow down to savor every moment you have and make it the best one ever!