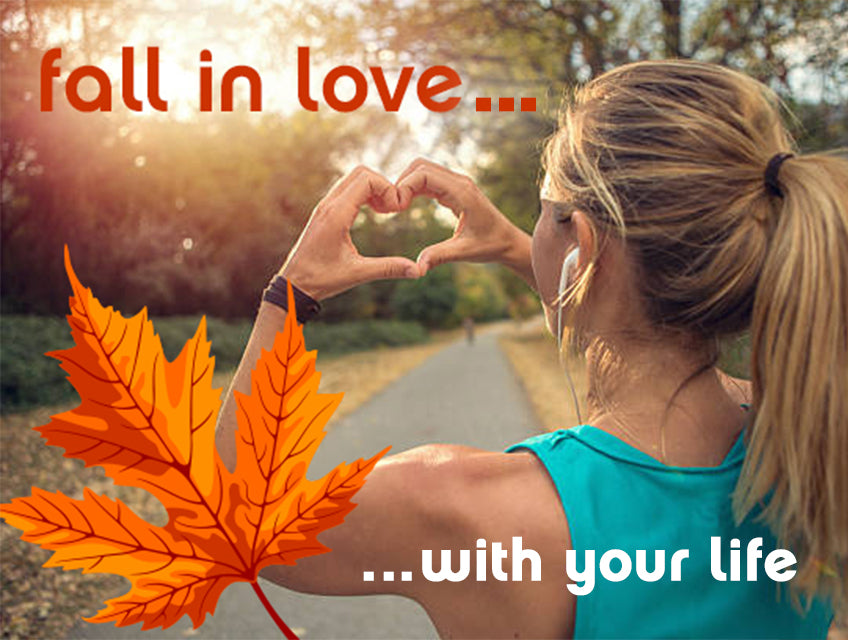 Are you in love...with your life?  What do you love about fall?  The word fall means many things to me. Fall is a time to embrace change and to look forward to a clean, crisp smell in the air and in our surroundings.  It is a time for weather changes, new colors in the leaves and changes in nature. Fall can also be a fun time for wardrobe changes and altering our everyday routines.  No matter where you live, I know for sure, we all look forward to bringing out those sweatshirts and cozy sweaters.  
There is no better time than now to reflect on the things you love about your life and also the things that you want to make better or different.  The warm hues of fall bring a beautiful feeling of comfort and calm.  I can't think of a better thing to do, then to snuggle up in my comfy sweatshirt and a blanket, watching a favorite movie or the football team I am rooting for that day.  
I encourage you to embrace this time to fall in love with your life all over again and to reflect on the beautiful things you have accomplished but also have yet to do.  Make a list of the areas in your life that are heading in the right direction and working out great for you.  Then also make a list of the things that might not be going as planned and that you may need to change direction on or create a new plan for.  This can be an excellent time to make those much-needed repairs on your home, look into a different hairstyle or get a whole new look. Start to think about decorating for the holidays, bring out the throw blankets and focus on a project you have been putting off.
The most important thing that fall reminds me of is that it is a new season for many things...love, life, health, family, friendships, projects, work, visitors, clients, and many new success stories.  Take this time to embrace it and do whatever it takes to fall in love with your beautifuLIFE all over again!  
My favorite affirmations for you this week is;
"I will embrace this time to make any changes needed to fall in love with my life today and every day."