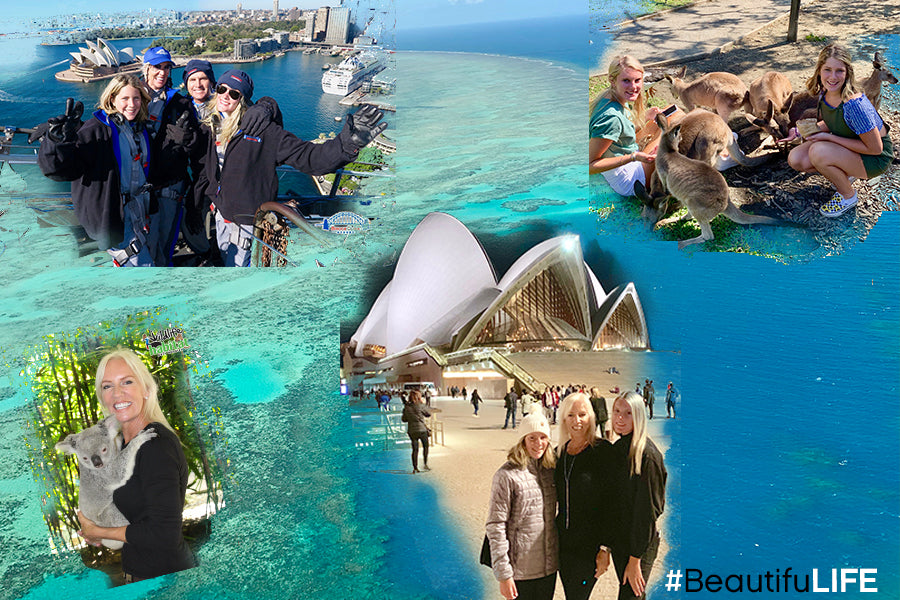 This Summer, we brought our girls to Australia to see where their Dad grew up, meet some family, and explore the Country.  The experience opened their eyes up to how beautiful Australia is, and how similar, yet different, the people, culture, food, and environment are to ours.
I had been to Australia a few times already, but this trip was a special time to share with our girls and to see the excitement in their faces with every new experience.  They are now old enough to be able to treasure these memories for a lifetime. 
Although it is an extremely hot summer here in Florida, it is winter in Australia.  The temperatures were cooler, but they changed pretty dramatically as we went to the different parts of the Country, similar to here and it was actually a nice break from the heat. 
We started our trip in Sydney, which reminded us of the Bay of San Francisco.  We climbed the Sydney Harbor Bridge which is one of the longest steel arch bridges in the world, saw Madam Butterfly at the Sydney Opera House, and went to the beautiful Taronga Zoo which holds 2600 animals with spectacular views of the Harbor.  Another highlight, while there was doing a Harbor cruise to see the lovely little towns that surround the water and visiting a street market to see the art and creations of the locals.
The next stop was Queensland, which reminded us very much of Florida.  We stayed in Port Douglas, which is surrounded by the Daintree Rainforest, the oldest tropical lowland rainforest in the world.  It is also home to the Great Barrier Reef, which is the largest living thing on earth and visible from outer space. There is no other place in the world where two Natural World Heritage sites meet, and the beauty is hard to capture in photos and videos.  To top it off, we were able to go behind the scenes at a Wildlife Habitat to see how they rescue and rehabilitate their wildlife similar to how our dedicated volunteer and staff of CROW do it here on our beautiful islands.  This experience was a treat as we also got to snuggle with Koala's and play with the Kangaroos, which of course, the girls wanted to bring home!
Our final stop was to Melbourne, where my husband grew up.  This was a special time for him to show his daughters where he lived, went to school, and played sports.  They were also able to meet relatives that they had never met and learned so much more about his history and life.  We went to an Aussie rules football game at the beautiful Marvel Stadium and explored some beautiful scenic drives and beaches.  Melbourne is famous for its cute laneways in the City, beautiful harbor, beaches, cafes and coffee shops, so we had plenty to do and see while enjoying a relaxing time and some cooler weather.
The travel time on both ends was about 35 hours, and the jet lag was a bit harder for us as adults than our kids.  The overall experience is hard to beat when you can go to another country, speak the language and feel so much at home from start to finish, not to mention take back beautiful memories that will last a lifetime. 
Thanks for letting me share this family trip with you and I hope you are enjoying the rest of your beautiful summertime!
My affirmation for you this week is;
"I will open my eyes and heart to new experiences and will cherish the moments and memories that will last a lifetime."