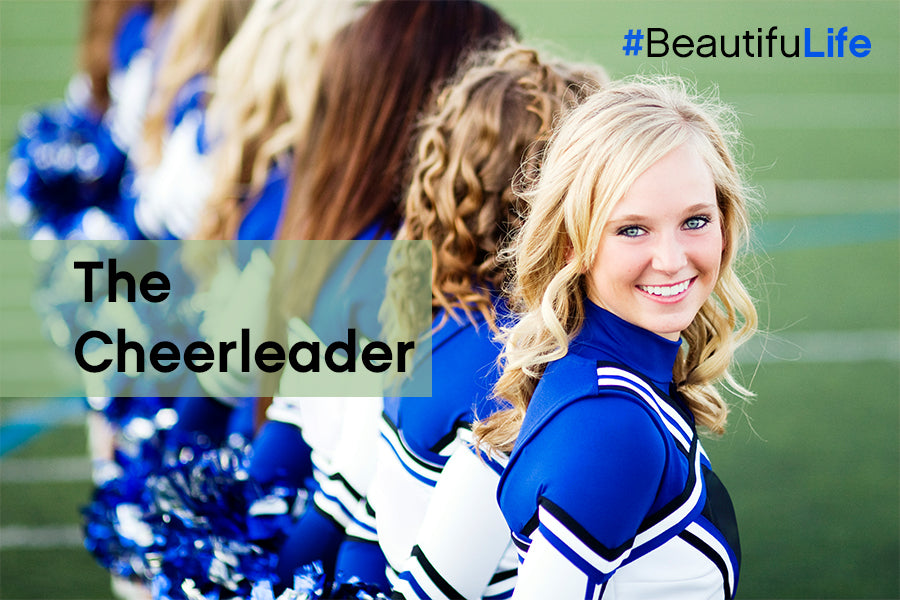 This is such a fun time of the year for many as the kids and teachers head back to school, and the sports teams ramp up to start a new season of competition.  Most of us have our favorite football teams that we root for and look forward to game days.  These athletes work so hard all year round to stay healthy and strong for the coming season, and you can see the excitement in their eyes when they are back out there and ready to take on their opponents. 
Today I want to give you a closer look at the role of a Cheerleader.  These are the dedicated individuals who work hard all year round to stay healthy, fit and positive to have the energy to pump up the team and keep the crowds cheering them on, regardless of the outcome of the game. 
I was a cheerleader many moons ago and remember how exciting it was to try out and make the squad.  There was an induction ceremony and breakfast followed by many training days to learn the cheers and to get in sync with the other cheerleaders.  There were many lessons learned from these years of cheering, and now, my daughter is a cheerleader for her high school football team, and I see the same sense of energy and determination in her eyes to keep people happy, excited, and the team pumped up to do their best! 
The idea of being a cheerleader is something that we should all think about and bring into our own lives every single day.  You see, cheering for a sport is one thing, but cheering on everyone around you is another, and it is one of the most important things you can do to help someone to become better and to achieve their goals. 
You are the only personal cheerleader that some people will ever get in their lives.  You are the cheerleader for your kids, your loved ones, your family, your friends, your co-workers, your employees, your staff, your parents, your teachers, your mentors.  Remember, the more you cheer them on, the more they will accomplish, the better they will feel which will result in you feeling good too. 
So, what are the qualities of a good cheerleader?  A good cheerleader will cheer even when they are tired, not feeling well, or losing the game.  A good cheerleader will come to the game prepared with the right cheers, look put together, and will shout loud and clear with a smile on their face.  Does that sound like something you do every day for others?  Well, you should, and if you are not, then I suggest you take a good look at your cheerleading capabilities and get them sharpened up because somebody needs you today. 
My affirmation for you this week is; 
"I will cheer for my loved ones and those around me, and know that others are cheering me on too."